Announcing the TiE Women's Global Pitch Competition 2021
The TiE Women Chandigarh Chapter is pleased to announce our next TiE Women Global Pitch Competition 2021.
An Opportunity to win $100,000 prize money @ TGS in Dubai (Dec 2021)
TiE Women is dedicated to Embrace, Engage and Empower women entrepreneurs across the globe. The program is aligned with TiE's pillars focusing on fostering entrepreneurship. The sector-agnostic program is focused on women-led startups, irrespective of the size of their enterprise, origin, standing, or background.
The vision is set to be achieved through a solid mission of sustainable and easy-to-adapt programming for all 61 chapters of TiE Global that will track the entire entrepreneurial journey with solid outcome metrics. The program is built on the Pillars of TiE Global: Learning, Mentoring, Access to Funding, Scalability, Safe Space, and Community.
Agenda
Inclusion of women in the formal startup ecosystem of the region: After a basic recce, we found out that most of the women entrepreneurs work in the shadows, and their companies, products, and services are hardly known or seen in the startup community. The agenda is to get these women out of their cubholes and be seen as serious contenders for funding, scaling up, or both!!
Access to the global community of TiE for Networking and Mentoring – both at the global level and the local level.
Funding via our investor network – both within TiE and outside of it.
Access to high-quality Masterclasses over the year. These classes may include topics such as -How to build your brand, Understanding Digital Marketing, How to create the perfect pitch deck, etc.
The Business Plan Competition – women entrepreneurs from our region get a chance to participate in the global pitch competition in collaboration with Empower – India's first Accelerator for women. There is prize money of 100K USD at the final pitch + Bootcamps + Access to global investors + Prizes at the chapter level.
Why TiE Women?
Connect with Global mentors for online mentoring
Chapter Runners-up attend all expenses paid two-day workshop in Jaipur (Tentatively October)
Chapter winners attend all expenses paid, two-day bootcamp in Mumbai (Tentatively November)
100K USD worth Prize money and offerings for the winner of Global finals. Attractive cash prizes, access to investors, sponsor prizes and more at Dubai culmination
*In case the travel restrictions extend beyond the end of this year, we will be inevitably forced to host a virtual final Pitch Competition.
Who Can Apply?
A female founder or a Co-founder in a startup can apply for the pitch competition.
Rules for Applying
Early stage
Late stage

Less than 3 years
May have received its initial, or seed funding
Company has an MVP

 Less than 7 years
The product or service is commercially available
Registered sales

The startup should be registered in the state.  In case the Chapter in the registered state is not participating, then the startup can participate in the nearest city by geographic proximity. Ask for residential proof of address and Utility bill.
Application Form – One startup can only apply to one Chapter worldwide. To ensure this, TiE Women has mandated a centralized form this year.
Women-led or Women Co-owned startups only: The co-founder (male or female) can travel to Dubai on their own expense. They can pitch together if it's the case in the Video intake at the time of application.
We encourage registered companies to apply, not mandatory for pitch competition but essential to be potentially investible
Membership – Top finalists have to be members of the TiE local chapter, before they travel for the finals.
Judges independent of TiE, inclusive of angel investors or VCs. Screening committee for entries should comprise of CMs, Board Members, preferably angel investors
*We are not accepting applications from idea-stage ventures; only Early and Late Stage startups.
Participation Fee
For TiE Members
For Non-TiE Members
  Free
  INR 10000 + Applicable GST


(this includes one year membership for TiE Women Chandigarh Chapter)
Timelines
Chapter Level – Chandigarh (Apr 2021 – Dec 2021)
| | |
| --- | --- |
| Applications Open | Last date for submissions 31st May 2021 |
| Screening of Applications |   7th June 2021 |
| Allotments of Mentor |   11th June 2021 |
| Internal Pitch Competition to be conducted |   20th Aug 2021 |
| Announcement of 1 Finalist & 3 Runners Up |   25th Aug 2021 |
Global Level (Sept 2021-Dec 2021)
Connect Chapter winner with mentors for finals
Training for the Chapter winner, by assigned mentors to present to a large audience – full of investors, VCs, accelerators, etc.
Connect with Global mentors for online mentoring
Chapter Runners-up attend all expenses paid two-day workshop
  October (Tentative)
Chapter winners attend all expenses paid, two-day bootcamp
  November (Tentative)
100K USD worth Prize money and offerings for the winner of Global finals.
Tie Women Chapter Level "Winners"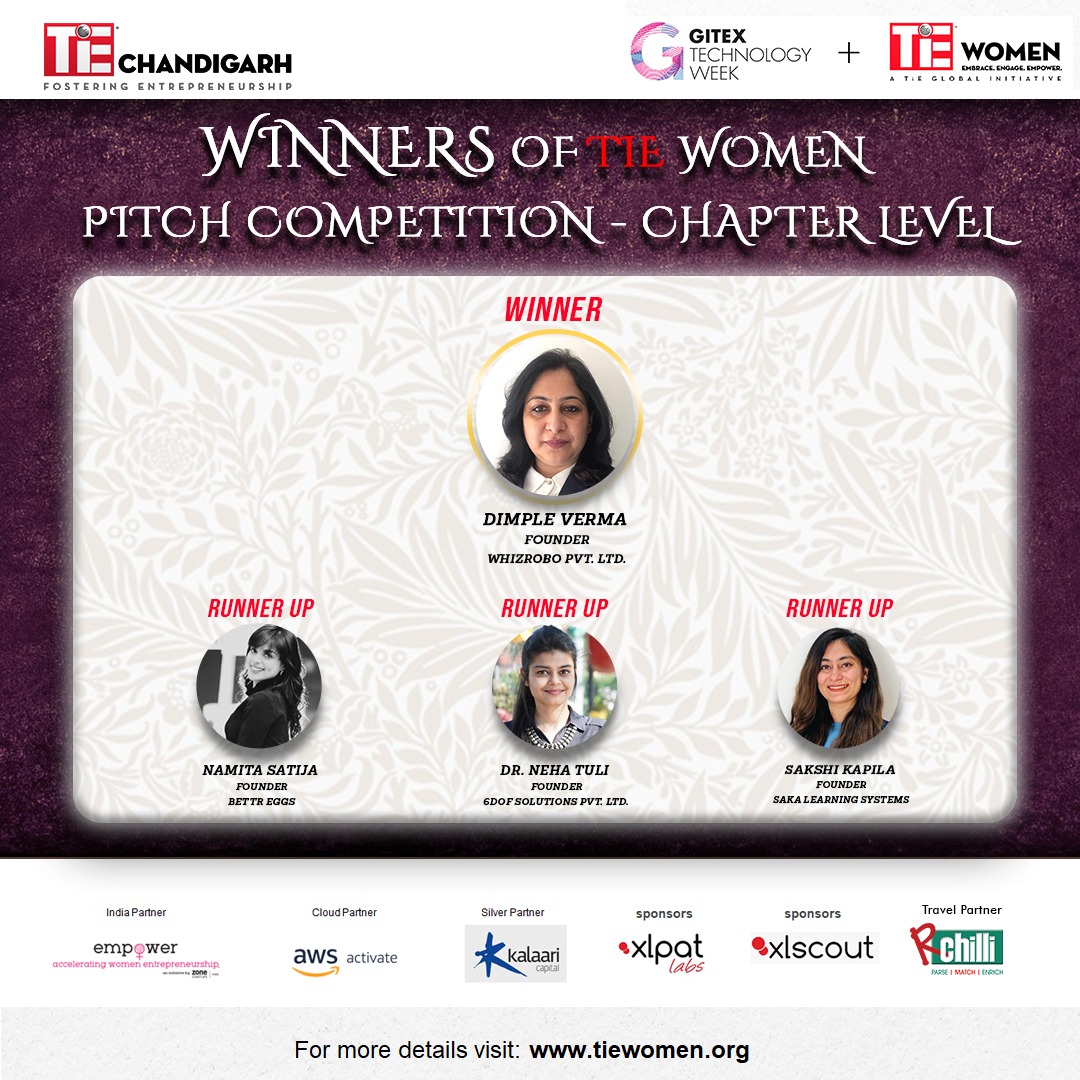 TiE Women Chandigarh Chapter – Team
Screening Committee – TBA